Welcome!
This is the English website of CrazyStat, a free web analytics script written in PHP. It does neither need access to your server's logfiles nor a MySQL-database to generate live statistics of your visitors. It's fast because of its caching technology and uses minimal webspace by compressing its logfiles. The script is very easy to use and very flexible.
CrazyStat is available in English, German, Russian, Danish and Dutch up to now and can be translated easily.
Please have a look at the screenshots and the demo to get an impression of the script or have a look at the feature list.
There are also some other php tutorials and projects on this site. You can also visit the German website for more php tutorials.
If you like CrazyStat, please consider a small donation.
Download the current version of CrazyStat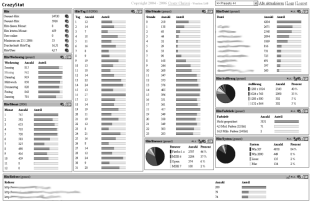 News